Posted by
Hanamaru Kunikida
in
Video Games
December 11, 2014 at 03:34:10 PM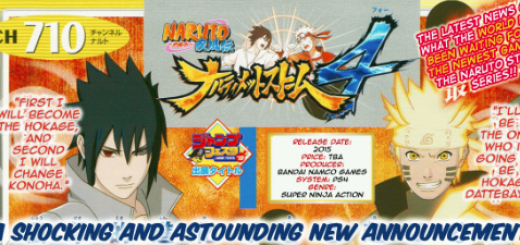 The latest issue of Weekly Shonen Jump magazine feature s scan revealing
Naruto Shippuden Ultimate Ninja Storm 4
, the latest installment in the Storm series. While the scan only shows that the game is coming to the PlayStation 4, it could be a similar situation to
Dragon Ball Xenoverse
in which the other platforms were announced at a later date.
Naruto Shippuden Ultimate Ninja Storm 4
will be "The Final Form of The Storm Series" which will focus on final events of the manga. Naruto from "The Last: Naruto The Movie" will be present in the game as well, but whether he will be separate character or a costume remains unknown.
The game is scheduled to come out next year. A playable demo will be featured at Jump Fest '15 as well. Check out the scan below:
You must be logged in to submit a comment.

No comments exist for this article.