Posted by
Kaitou+
in
Video Games
June 11, 2014 at 10:03:11 AM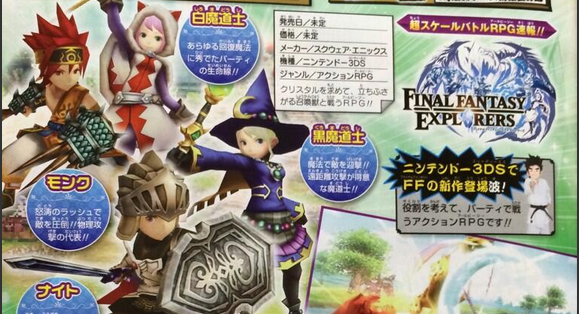 On the latest issue of Weekly Shonen Jump, a new Final Fantasy spin-off was confirmed to come to the Nintendo 3DS, titled Final Fantasy Explorers. The game puts in you a quest where you have to battle monsters as well as gather crystals while you're at it. This Final Fantasy spin-off could possibly be part of the Crystal Chronicles spin-off series.
This game will also offer up to four players playing together but it's not clear if it;'s cooperative play or versus mode. So far, the game offers four races, white mage, black mage, a monk or a fighter, and a knight, which are known to be in previous Final Fantasy games.
Thanks
Kazu
You must be logged in to submit a comment.

No comments exist for this article.